The topic has been discussed on other posts but I thought someone might be interested in seeing it actually done. I lost my right leg in the Vietnam war. For me to operate the rear brake I have to take my foot off the peg and actuate the pedal using the heel of my prosthetic foot. Awkward but doable. I've been riding sport bikes since the mid-seventies. I've even done track days riding this way. But now I'm older and would like to add a little more finesse particularly with low speed maneuvers. So I have added a left hand brake lever. Here's how it's done;
First order of business is to get one of these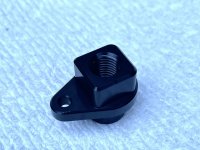 This gadget goes in the reservoir port of the rear master cylinder and will turn it into a sub-master and allow you to keep and use the pedal. It's threaded for a 10mm banjo bolt for the hydraulic line from the new lever. It looks like this installed.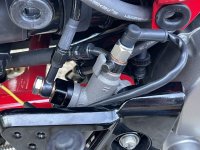 It takes a 50 inch brake line to get from here to the new left hand lever.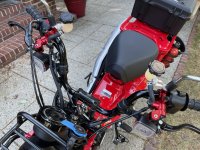 Works perfectly but takes a little getting used to. Having a lever there I naturally want to put two fingers on it so when shifting old muscle memories want to come back. But at slow speeds it's everything I'd hoped for.
Hope you like it.