Joined

May 12, 2023
Messages

63
Location
Hello everyone.
Calling in from Southeastern WI, mid-twenties. Always wanted a CB750 growing up, don't exactly remember where or when I saw one but it just sort of stuck with me. Until college, when I was told I'd be disowned if I ever came close to owning one (particularly from Mom).
Eventually the bug bit me and I decided to get a moped, hopefully a Spree (which were expensive at the time, spring of 22'). Instead I found a 1981 Honda Express II that had good bones but needed some returning to stock.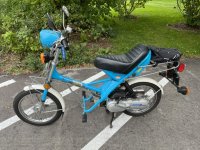 It was a great machine, I somehow found a stock airbox, and took care of other items. But eventually I wanted something four stroke and a little more powerful for everyday commuting. It was around this January that I found my 1982 Passport C70. It was stored in a shed for a long time, and hadn't run since at least 2003. But it had everything come with it, and over the next few months I slowly restored it and made it a nice survivor example.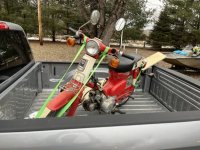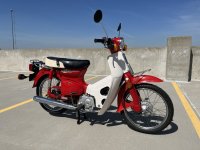 After riding it for the first couple months of the season, I found that while I enjoyed it, it was difficult to take myself and my significant other on. Apparently it was made for two 1980's people to ride on, not two 6ft people! Due to it being a 70cc, I also enrolled in and completed my basic rider course, and passed my DOT test for a class M endorsement last week. I'm excited to start riding with friends and taking longer adventures.
I was really interested in the newer Trails ever since they came out. A dealer in my hometown had a 22' that got sold in four days of being on the floor. I asked if a 23' was coming in, and was told it was going to be $6k due to a non-negotiable $1000 "setup" fee that Honda "sets for all dealers".
Called a dealer in Lake Villa who also had a 22', which sold that day as well. But, they had a 23' coming in June. $5k out the door, with tax and WI title taken care of. Placed my deposit, and I can't wait for it! This is my first new vehicle ever (used, project cars), let alone a motorcycle. Thanks!