2023.09.13
Cape Girardeau, MO to Branson, MO.
The ride this morning started out boring, dangerously boring. I have acclimated enough to rolling 45-55 mph all day that those speeds feel like walking pace on the bike and the road was not exciting enough to hold my attention. Luckily I don't have a defined route to follow, just a place to start and stop each day, sometimes with a lunch plan in the middle. Being on a Honda
*Trail*
I decided to see what the gravel back roads in this area of Missouri had to offer. I was not disappointed! There were some very steep grades, large loose gravel, and two oncoming pickup trucks on a path maybe one and a half cars wide in the flat areas. My boredom was cured with just about 5 miles of gravel riding.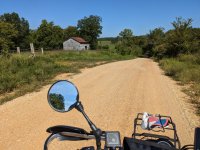 Luckily back on paved roads the route started to get interesting again passing through the Mark Twain National Forest. The Ozark Mountains were welcoming with rolling hills, woods, exposed rock faces and bluffs, rivers, and great bridges.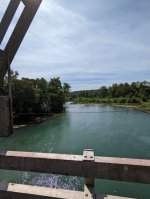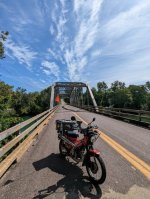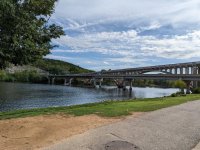 Branson, Missouri had some very steep roads in town that reminded me of my recent ride through Hannibal, Missouri last month, except Branson is very touristy in an amusement park kind of way.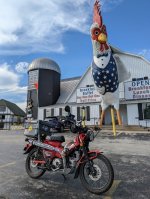 Lodging for the night was at Chateau on the Lake, quite a fancy place for a bunch of dirty bikers.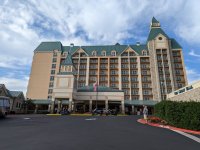 I rode back into town and had dinner at Uptown Cafe, the Henry J taxi cab out front drew me right in.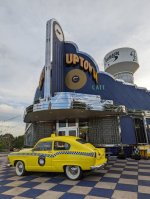 My dad's JD has reproduction fuel and oil saddle tanks I ordered from W&W Cycles out of Germany, but like most of the reproduction parts for this era of Harleys they are not received as a finished product. They needed to be sealed, drilled for mounting, notched for the hinge for the seat t-bracket, some threads cleaned up, and painted. My dad cut the notch for the seat bracket after sealing the tanks with Red-Kote. There is a fuel leak we think was caused by this, but it's near the top of the reserve tank. This means it has only been a problem when the reserve tank is full, so the simple solution is to not fill it past where it starts leaking. Unfortunately the bike was parked at a gas stop with both fuel petcocks open, so the main tank that had just been filled up equalized to the reserve tank and fuel poured out the leak, ran down the bike, and then seeped through the gasket on the magneto and flooded it out. Luckily my dad was equipped to pull the primary cover to get access to the magneto and then pull its cover to drain and air it out, so the JD got all of its miles in today.
Our friend Ben with the Ner-A-Car was less fortunate. When he went to start the bike after a stop it had lost compression. From what can be seen without taking the top end off the piston looked fine. He will skip tomorrow's riding, trailer it to our next stop, and troubleshoot it further tomorrow.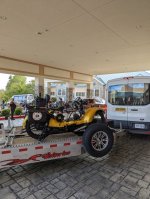 Last edited: